In this Easter Mini-Retreat, Arnaud Maitland shares a taste of his retreat experiences, studies and practices, so that you will feel you are on retreat as well. The retreat will center around reflection and meditation.
We are very happy to announce that senior teacher Arnaud Maitland, who is currently in extended personal retreat, agreed to lead a mini-retreat in the weekend of April 2-4, 2021 (Easter).
Webinar sessions will be live-translated to Spanish.
Arnaud invites you to join us in this Intimacy with Yourself Mini-Retreat:
Dear friend,
I would like so very much to explore with you what is it like to be on a personal retreat. To have quality time for yourself: your body, your breath and inner voice, the obstacles within mind and experience the goodness we all really are. We are born to learn, to love, to offer help.
Many of you may not have the time as being busy-busy captures most of your attention. With the lockdowns due to corona many people do find themselves alone at home, especially in the evenings. Maybe you do have time now to spend a few hours with yourself for three hours, for three days.
Together, lets create a mini retreat. Kum Nye, stillness, going to the depth of the busy-busy mind, where we will find vast openness. Staying in the heart, while all else slows down and opens up. Mantra, visualization and learning about the layers of our inner world. I expect you will increasingly feel good being with yourself, and recognize how fortunate you are.
With Rinpoche's book Revelations of Mind, we can see obstructing tendencies and they begin to change, revealing what is more real and waiting to be disclosed. With the art of seeing and entering the dynamic of time, we may discover the point of "present-ness" Rinpoche is referring to. Yes, all of that in three extended sessions, nearly effortless.
We will do some of the prayers and texts that I am studying and the meditations I have been suggested. You, too, will look forward to study and practice more. Spontaneous timing, what comes next is announcing itself, will be intriguing and impactful. We will return back home refreshed and inspired, and more of help to others.
Might this learning experience, this gathering of some like-minded people, be something for you to join? If so, please find registration details below.
You can bring a friend; it is perfectly fine to be completely new as it is all about the essence of the heart: to fulfill the promise of our life.
Om Ah Hum
Arnaud
The mini-retreat will be in English, with live translation to Spanish.
---
Intimacy with Yourself Mini-Retreat
Arnaud will conduct three Instruction-sessions through Zoom video software in the course of the weekend:
Timezone /
Date
California,
USA
Brazil and
Argentina
United
Kingdom
Central
Europe
Friday, April 2nd
9 AM – 12 PM
1 – 4 PM
17-20:00 hrs
18-21:00 hrs
Saturday, April 3rd
9 AM – 12 PM
1 – 4 PM
17-20:00 hrs
18-21:00 hrs
Sunday, April 4th
9 AM – 12 PM
1 – 4 PM
17-20:00 hrs
18-21:00 hrs
Check timeanddate.com for more time zones.
We recommend that participants free their time from all other obligations during the time of the retreat, from Friday, April 2nd, to Sunday, April 4th, and to organise a place where they can practice privately and have internet access as well.
Recordings of the sessions will be made available for all participants.
Costs:
Price for participation in Intimacy with Yourself is € 195,- per person. This includes unlimited private use of the recordings.
Registration
---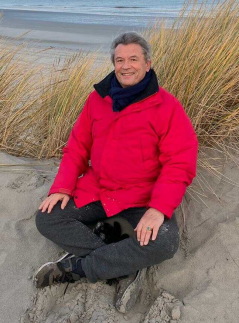 Arnaud Maitland is a student of Tarthang Tulku Rinpoche and an international retreat leader, teacher and Kum Nye Yoga instructor. Born on May 14, 1946 in The Hague, The Netherlands, Maitland holds a J.D. from Amsterdam, Netherlands, and an MA in Tibetan Buddhist Philosophy and Psychology from Berkeley, California. Arnaud authored three books: MasterWork, Living Without Regret and Reflections of Faith.
---
Practicalities
Language: The retreat is English-spoken, with simultaneous Spanish translation.
E-mail: nyingmacentrum[at]nyingma.nl
Phone: +31 (0)20-6205207