Easter Mini-retreat with Arnaud Maitland
We are very happy to announce that senior teacher Arnaud Maitland, who is currently in extended personal retreat, agreed to lead a mini-retreat in the weekend of April 2-4, 2021 (Easter).
"Live what you know. Be that!" *
Every now and then, many of us need a little break, a time to refresh, reenergize and open to an orientation that will do us good.
Exploring Tarthang Tulku Rinpoche's teachings, we will soak in what is important for each of us to become.
"This is your moment in time,
Giving you knowledge that ultimately
There is a reason for you being here,
for your undertaking this journey.
You have a purpose!
And your purpose may be up to you."
– Tarthang Tulku in Kum Nye Dancing
Mixing with Arnaud's experience of being on extended personal retreat, we will explore living what we know.
The following topics will be included:
Curbing stress and furthering what is good.
Is it possible to live without inner conflict?
How to get in contact with what is authentic in you?
The way to freedom is to develop a new way of understanding.
Releasing energy, and opening senses and perception.
Non-attachment? Isolation? Surrender? To what?
Developing meditation: being the point of present-ness.
The

Padmasambhava

principle.
Your purpose may be up to you!
* Tarthang Tulku in Challenging Journey, p 215
The retreat will be in English.
---
Live what you know. Be that!
Arnaud will conduct three Instruction-sessions through Zoom video software in the course of the weekend:
Timezone /
Date
California,
USA
Brazil and
Argentina
United
Kingdom
Central
Europe
Friday, April 2nd
9 AM – 12 PM
1 – 4 PM
17-20:00 hrs
18-21:00 hrs
Saturday, April 3rd
9 AM – 12 PM
1 – 4 PM
17-20:00 hrs
18-21:00 hrs
Sunday, April 4th
9 AM – 12 PM
1 – 4 PM
17-20:00 hrs
18-21:00 hrs
Check timeanddate.com for more time zones.
We recommend that participants free their time from all other obligations during the time of the retreat, from Friday, April 2nd, to Sunday, April 4th, and to organise a place where they can practice privately and have internet access as well.
Recordings of the sessions will be made available for all participants.
Costs:
Price for participation in Live what you know: Be that! is € 195,- per person. This includes unlimited private use of the recordings.
Registration
Should you have any queries, please don't hesitate to contact us by e-mail.
---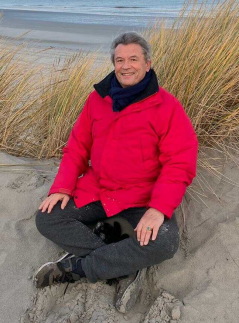 Arnaud Maitland
Arnaud Maitland is a student of Tarthang Tulku Rinpoche and an international retreat leader, teacher and Kum Nye Yoga instructor. Born on May 14, 1946 in The Hague, The Netherlands, Maitland holds a J.D. from Amsterdam, Netherlands, and an MA in Tibetan Buddhist Philosophy and Psychology from Berkeley, California. Arnaud authored three books: MasterWork, Living Without Regret and Reflections of Faith.
---
Practicalities
Language: The retreat is English-spoken.
E-mail: nyingmacentrum[at]nyingma.nl
Phone: +31 (0)20-6205207