Nyingma Centrum Nederland is fortunate to host a series of international online programs on Padmasambhava, presented by Arnaud Maitland. Of the two series that Arnaud presented, Discovering Padmasambhava and Padmasambhava is Alive, videos and transcripts are still available. You can order though the buttons below. In his classes Arnaud refers to a very large Padmasambhava statue that is being sculpted at Ratna Ling Retreat Center:
Dear friend,
Momentarily, we are sculpting a monumental standing statue of Padmasambhava under the direction of Tarthang Tulku Rinpoche. It is a wrathful, standing tall Guru Rinpoche of some nine meters, twenty-eight ft.

Under the leadership of Andis Egle, a tiny crew is entering the final phase of clay-sculpting; in a few months the arduous job of mould-making will start. Some 450 moulds will be used; a costly process. We have the funds all the way through bronzing, except for fifteen thousand dollars are still needed to be able to complete the moulding process. Two anonymous donors promised to match all funds we raise. So, we still need $ 7500. May we ask for your help, your participation?
Through your donation, your energy, mind, and heart will become an integral part of this meritorious presence of Guru Rinpoche, that may last for centuries. Please help make this Guru Rinpoche come to life. You can send us your written dedications, which we will include into the process. Your donation is received with open arms.
Andis & Arnaud
Sponsor the Padmasambhava Statue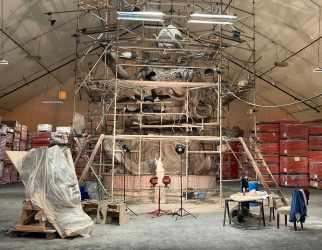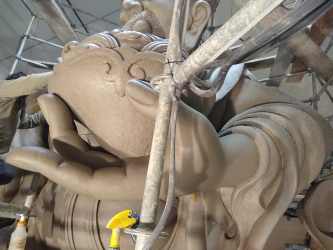 Your donations are very welcome for the Padmasambhava statue that is under construction at Ratna Ling in Northeren California. An additional $ 7.500,- is needed for the molding. Any amount you are willing to contribute is very welcome. Please donate though the button below and we will forward your contribution to its destination.
Padmasambhava is Alive with Arnaud Maitland (six sessions)
We orient ourselves to the possibility that Padmasambhava is deathless and thus alive today.
We are not out to prove anything, rather extend body, mind, and heart to all levels of experience, including the physical world, the invisible world, and beyond all mental activity.
Maybe Padmasambhava can be found for example, in the infinite field of seeing energy, inside the root of thoughts and feelings – within mind and heart, anywhere, anytime, and accessible to all. Yet, this gathering on Padmasambhava is Alive is mostly about invoking the energy of Padmasambhava, the blessings….

From the depths of my heart, I pray to you
To be inseparable from your compassion
I ask for your blessings upon my mindstream

Download the video recordings and transcripts of Padmasambhava is Alive
The videos of Padmasambhava is Alive are available for €108,-
The transcripts of Padmasambhava is Alive are available for €108,-

Download the video recordings and Transcripts of Discovering Padmasambhava
For the video recordings and transcripts of Discovering Padmasambhava we ask a donation of € 108,-. After receiving the donation, we will send you the download link by e-mail.
---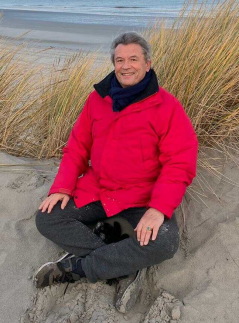 Arnaud Maitland is a student of Tarthang Tulku Rinpoche and an international retreat leader, teacher and Kum Nye Yoga instructor. Born on May 14, 1946 in The Hague, The Netherlands, Maitland holds a J.D. from Amsterdam, Netherlands, and an MA in Tibetan Buddhist Philosophy and Psychology from Berkeley, California. Arnaud authored three books: MasterWork, Living Without Regret and Reflections of Faith.