Six sessions each Sunday, starting January 23, 2022
10:00 – 11:15 AM Ratna Ling / 19:00 – 20:15 Amsterdam time
with Arnaud Maitland
After the Discovering Padmasambhava course of January 2021, we now embark on the sequel and orient ourselves to the possibility that Padmasambhava is deathless and thus alive today.
We are not out to prove anything, rather extend body, mind, and heart to all levels of experience, including the physical world, the invisible world, and beyond all mental activity.
Maybe Padmasambhava can be found for example, in the infinite field of seeing energy, inside the root of thoughts and feelings – within mind and heart, anywhere, anytime, and accessible to all. Yet, this gathering on Padmasambhava is Alive is mostly about invoking the energy of Padmasambhava, the blessings….
From the depths of my heart, I pray to you
To be inseparable from your compassion
I ask for your blessings upon my mindstream
We will study some authentic Padmasambhava texts, specific prayers, visualizations, and Kum Nye dancing to initiate the experience of space itself is dancing within.
It is not necessary to have completed the Discovering Padmasambhava course, but if you have not participated in that course, it would be helpful to study the still available videos and transcripts, beforehand, using the Download button below.
Will you join us? Last time we were with well over one hundred people from many countries, all together tuned into Tarthang Tulku Rinpoche's teachings on Padmasambhava.
Donation: € 108,- audios included.
videos and transcripts, each additional €108,-
Hoping we meet, wishing you the best,
Arnaud
Download Discovering Padmasambhava Video recordings and Transcripts
For the video recordings and transcripts of Discovering Padmasambhava we ask a donation of € 108,-. After receiving the donation, we will send you the download link by e-mail.
---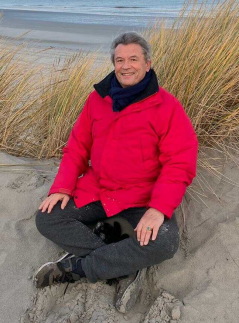 Arnaud Maitland
Arnaud Maitland is a student of Tarthang Tulku Rinpoche and an international retreat leader, teacher and Kum Nye Yoga instructor. Born on May 14, 1946 in The Hague, The Netherlands, Maitland holds a J.D. from Amsterdam, Netherlands, and an MA in Tibetan Buddhist Philosophy and Psychology from Berkeley, California. Arnaud authored three books: MasterWork, Living Without Regret and Reflections of Faith.
Should you have any queries, please don't hesitate to let us know.