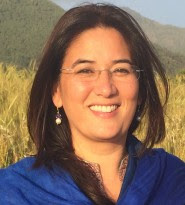 Dear Friend,
We are pleased to announce Dharma Publishing's recent publication: Ananda Light Foundation: Works from 2002-2020. This book chronicles Tsering Gellek's extensive and trailblazing work in carrying out her father Tarthang Rinpoche's visions.
It is our pleasure to invite you to a live interview with Tsering Gellek, the director of both the Ananda Light Foundation and Sarnath International Nyingma Institute. The interview will explore questions such as:
How do you start one of Rinpoche's big projects when given little instruction?
How do you work in a predominantly male and monastic environment?
How do you keep up the energy to go from one big project to another big project?
Tsering welcomes questions from all of the program's participants and we look forward to a light-hearted conversation about working under Rinpoche's blessing, guidance, and "magical ways"!
With warm wishes,
Renate Marx
Program Coordinator, SINI
33755 Tin Barn Road
Cazadero, California 95421
United States
SA 14/ 52 P-3 Baraipur, Sarnath
Varanasi, Uttar Pradesh
India 221007
SARNATH INTERNATIONAL NYINGMA INSTITUTE
6 december, 2020 | 19:00

-

20:00
To join the Zoom Meeting, please follow this link or enter the Meeding ID and Passcode into your Zoom app.
Meeting ID: 827 0420 1553
Passcode: 489553
To dial in by phone, please find your local number on the Zoom website.