A workshop about a core prayer in the Nyingma tradition of Tibetan Buddhism
Introduced by Jack Petranker
In this workshop we look closely at the famous Seven-Line Prayer and ask how to approach it as a true invitation and powerful opportunity.
Prayers in the Buddhist tradition are often directed toward the Buddhas and Bodhisattvas, beings who transcend time and space.
Guru Rinpoche, however, shares our world. He appears in our history. We invite him to enter our lives in an immediate, heartfelt way. So that we can follow the path that he has made available.
This two session workshop opens the retreat weekend Making the Transition to the Realm of the Sacred which will be held in person at Nyingma Centrum Amsterdam.
---
Instructor
This special in person weekend retreat will be taught by Jack Petranker, long time student and close collaborator of Tarthang Tulku. Jack has been a well loved guest teacher and advisor at the Dutch Center since we bought the house in 1991 and we are very happy that he agreed to lead this special intimate retreat with us in October.
Jack Petranker is Director of Mangalam Research Center, and former Dean of the Tibetan Nyingma Institute in Berkeley. A direct student of Tarthang Tulku since 1980, Jack holds degrees from Stanford, Yale, and University of California, Berkeley. He is author of When It Rains, Does Space Get Wet? and the editor of many books in the TSK series.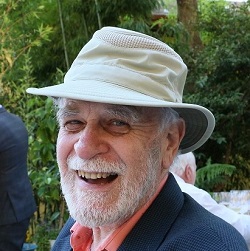 ---
Program of the workshop
16.00-17.30: Session 1: Inviting Guru Rinpoche – the Seven Line Prayer
18.00-19.30: dinner and clean-up
19.30-21.00: Session 2: Inviting Guru Rinpoche – the Seven Line Prayer
---
Register and pay for the workshop sessions
Please note in the field 'remarks' whether you will participate live or online