Online series based on the Sutra The Gaya Peak Exchange led by Magda Costa

We live in times where outer perils of disease, natural disaster and war sadly dominate the global news. We may feel afraid, helpless and alone, losing faith that we can contribute – or that things may change for the better. In these perilous times it is especially important to take care of our innermost hearts and aspirations, even if we do not know how. Devotional practice is a profound and fundamental gesture – shared by many of the earth's great religions- of acknowledging our limitations and at the same time opening to a potential of vast and limitless goodness and beauty not owned by any of us. Devotional practice may give wings to our deepest aspirations in ways that bypass the limits of conceptual mind and reveal to us paths and possibilities where before we saw none.
We are very fortunate that Magda Costa, close student and attendant of Tarthang Rinpoche, accepted our request to teach a short series of online sessions on 'How to activate devotion'.
Based on the Sutra "The Gaya Peak Exchange", Magda will explore with us what devotion is and how to develop it. The practice that accompanies this topic will be focused on growing the connection with Padmasambhava and his power of healing and transformation. Opening our hearts to this sublime connection we may find that we have immense power
Rinpoche is working with Magda in preparation of this series and we hope that many of you will make use of the special opportunity to attend.
---
How to Activate Devotion – online practice series
Language
The retreat will be held in English.
Schedule
This international online practice series consists of three 2-hour webinars, held through Zoom. The sessions are offered on Friday June 3, Saturday June 4 and Sunday June 5 2022 at 19:00-21:00 hrs CET / 10-12 am PST.
Check timeanddate.com for your local time zone.
On Friday June 3, preceding the first session of the 'How to active devotion' series, Magda and Caroline van Tuyll will give a free talk 17:00-18:00 pm CET, 8-9 am PST on the sacred and invisible communication of prayerflags, showing also some beautiful pictures of the vast variety of flags now flying at Odiyan and elsewhere in the world. In this talk we will also briefly inform you about the new European prayerflag project that Rinpoche requested the Dutch and German center to start. The newly designed prayerflags will be flying at Odiyan and our European centers to help promote harmony and world peace.
Registration and payment for the online series
Friday June 3, Saturday June 4, Sunday June 5 2022 – 19:00 hrs – 21:00 hrs CET/ 10-12 am PST
Costs for the entire series: € 108 per person.
If you cannot afford this but would like to attend, please email Elske van de Hulst at nyingmacentrum[at]nyingma.nl to apply for a discount.
The donation will be entirely used for Odiyan manintenance and sustainability.
---
Magda Strobl Costa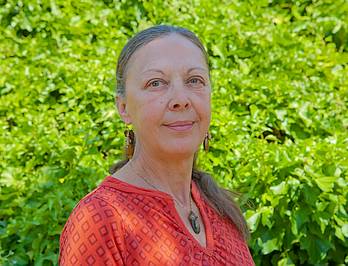 Magda Costa has been studying and practicing Tibetan Buddhism since 1991. She started her studies in Sao Paulo Nyingma Center, Brazil, and moved to the US in 2004 to be the Financial Officer of Dharma Publishing. In 2010 she moved to Odiyan to do the traditional three years retreat and after the retreat she continues living in Odiyan practicing, studying, and working under Rinpoche's guidance. Magda Costa is the financial officer of TNMC, responsible for Odiyan Temple Gardens, and is the head of the sacred art sewing projects.