International retreat/webinars based on Dimensions of Mind by Tarthang Tulku
Led by Jack Petranker
"If there is no holding on, there are no worries or fear, no guilt and no pain.
The dualistic mind can't operate.
Nothing belongs to you, and so you belong to everything.
That's why it makes sense to speak of freedom."
– Tarthang Tulku in Dimensions of Mind
It is our great pleasure to announce that Jack Petranker has accepted our repeated invitation to lead a retreat program, in October, 2019, in Amsterdam, based on the book Dimensions of Mind by Tarthang Tulku. Parts of the retreat will be available as a live webinar.
Jack Petranker has 40 years experience as a Nyingma teacher. He worked closely with Tarthang Tulku on this book as its editor and as the dialogue partner in the book.
Together with Knowledge of Freedom, Revelations of Mind, Keys of Knowledge, OK Mantra and Lotus Trilogy, Dimensions of Mind is part of the Understanding Self and Mind serie, in which Rinpoche offers us many ways to crack the prisons of samsaric experience. The vigor and loving care of his incessant invitation to freedom shine through the many printed pages with a soft glow.
Dimensions of Mind is the first book in which Rinpoche freely mixes 'Dharma language' and so-called 'secular language', while at the same time making very clear that all words point to an understanding beyond words and concepts. The other special characteristic of the book is that it is in dialogue form. The editor asks all the questions that we also have, but are afraid to ask.
Dimensions of Mind: No More Limits
Even when we are committed to growth and change, we automatically fall into patterns that limit our creativity, obscure the immediacy of experience, and cut off our ability to enjoy our lives. Learning how to change these patterns opens the door to transformation. We are no longer trapped, because we are no longer convinced that our limits are real. We can use every situation for our own benefit and for the benefit of others. We can do what needs to be done.
Dimensions of Mind gives us a beautifully crafted way to question our limits and experience fully in each moment. It invites us to change how we engage our lives and use our minds.
In this retreat, we will go beyond mindfulness and beyond meditation, exploring how to relax into the secret heart of every experience. We will work with precisely designed exercises and carry out inner experiments that lead us to the joy of never-ending discovery.
---
This webinar/retreat is a coproduction of Nyingma Centrum Nederland and Center for Creative Inquiry, Berkeley, California.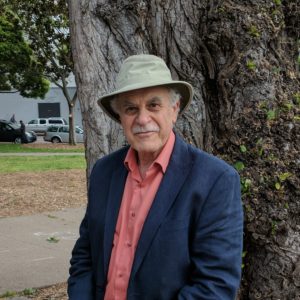 Jack Petranker
is Director of Center for Creative Inquiry and Mangalam Research Center, and former Dean of the Tibetan Nyingma Institute in Berkeley.
A direct student of Tarthang Tulku since 1980, Jack holds degrees from Stanford, Yale, and University of California, Berkeley. He is author of When It Rains, Does Space Get Wet?
No More Limits – Attendance options
Opening Lecture No More Limits
Friday, October 18th
19.00-20.30 Free Opening Lecture – no need to register
Location: Nyingma Centrum Amsterdam – also available by webinar
Retreat at the Nyingma Center, Amsterdam
Friday, October 18th, 15:00 hrs
– Thursday, October 24th, 2019, 12:00 hrs
Costs: € 650
Nyingma community members and students pay € 550,-.
The price includes all meals, the book and access to webinar recordings.
Lodging is available in modest, shared rooms at the Nyingma Center, at € 30 per night.
Please let us know if you need lodging at the Nyingma Center, and for how many nights.
Registration: Please register by e-mail: nyingmacentrum@nyingma.nl.
Live webinar sessions
Friday, October 18th
– Wednesday, October 23rd, 2019
Time: 18:00 – 21:00 hrs
Costs: € 225,- including access to the recordings.
Nyingma community members and students pay € 135,-
Webinar Registration
Should you have any queries, please don't hesitate to contact us by e-mail.

The retreat is English spoken. Translation into Dutch will be provided if needed.
Literature
The book Dimensions of Mind by Tarthang Tulku, edited by Jack Petranker, is available for retreat attendants:
Retreat Program
Friday, October 18th
15.00-16.00: Check-in retreatants
16.00-17.00: Introductory session
17.00-19.00: Dinner and clean-up
19.00-20.30: Free Opening Lecture – also available on livestream and by webinar
Saturday, October 19th – Wednesday, October 23rd
07.00-08.00: Early morning practice
08.00-10.00: Breakfast and chores
10.00-13.00: Retreat session
13.00-14.30: Lunch (hot meal) and clean up
14.30-16.30: Private practice or retreat session
16.30-18.00: Dinner and clean-up
18.00-21.00: Retreat webinar session
Thursday, October 24th
07.00-08.00: Early morning practice
08.00-10.00: Breakfast and chores
10.00-12.00: Retreat closing session